Using Trend Micro: Trend Micro Review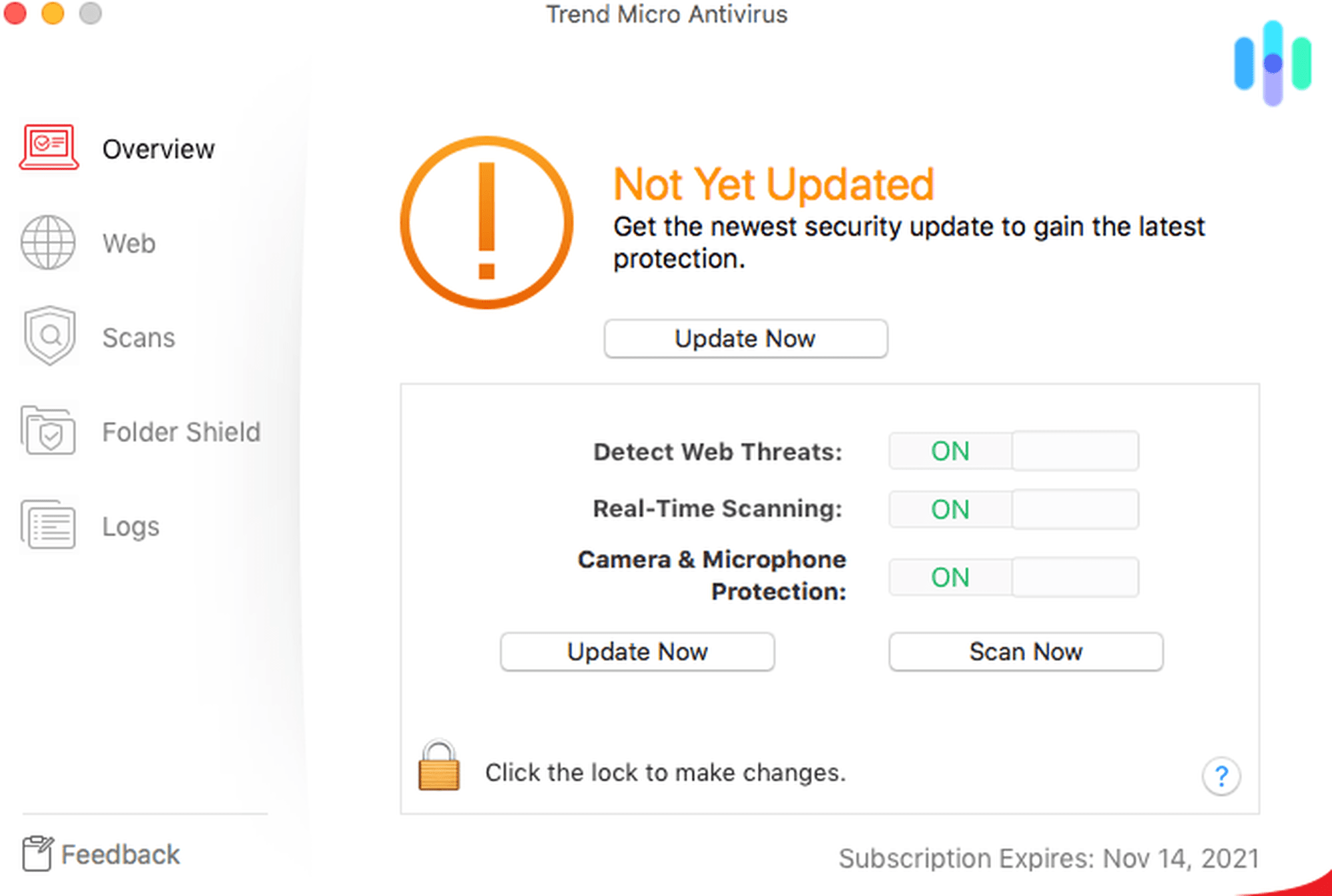 Overview
Leaving aside the updates, we began evaluating Trend Micro by clicking the Scan Now option in the Overview section. Another pop-up window with the title Smart Scan then emerged, scanning our computer for malware (albeit it did not scan every file; to do so, we would have needed to choose Full Scan, which we discuss in more detail below; Trend Micro did not immediately make this evident). As discussed in our evaluation of Avast antivirus software, we wish Trend Micro could keep everything in a single window. But after what felt like an eternity—about 10 minutes—we eventually received the message that our computer was safe to use and that over 4,000 files contained no dangerous code.

Now, in addition to the Scan Now button, there were three toggles for web threat detection, real-time scanning (i.e., scanning that happens automatically without requiring us to perform a manual scan), and the camera and microphone protection that we opted for. The scans appeared to be working, at least in our hopes, even if we were never able to activate Trend Micro Antivirus to acquire the "latest protection"!

Web
The Web tab was divided into three subsections:
Privacy Scanner:

Did you know that over 70 percent of American adults use social media of some

sort?

We may not realize how much information we're sharing on these social networks, which could lead to Identity theft if our personally identifiable information gets in the wrong hands. Privacy Scanner, in response to these risks, is a link on the Trend Micro Toolbar, Like Chrome extension, that will check our "privacy" whenever we share any data on LinkedIn, Twitter or Facebook (oddly, Instagram, TikTok You tube and other popular social media sites and apps weren't covered). We switched over to Chrome to test the Privacy Scanner out. Once we clicked on the Chrome extension and then on "Check social network privacy", we were brought back to Trend Micro's website where we had three tabs, one for each social network, that brought us to the social network's websites so we could sign in. Once we signed into Facebook, we were brought to our regular News Feed, so we went back to the Trend Micro window and saw that we had six privacy concerns, the fact that everyone could track us through our email address and phone number. We quickly changed these permissions to "Friends", although Trend Micro wasn't necessary for this as we could've just done it in our Facebook settings. The process held true for LinkedIn and Twitter, and although this function could've been more convenient than going into each site's individual settings, the various apps, Chrome extensions and web pages made it not worth it.

Web Threat Protection:

Moving on, we had to activate Web Threat Protection in order to use it; this must have been the fourth time we've had to activate a feature, and we wish we could've just activated everything when we downloaded the app. We digress. Upon activating this feature, again, we had to enter our computer Keychain and restart our Chrome browser, which certainly got tiresome. And once we clicked "Enable", it actually opened Safari, even though we're exclusive Chrome-users. Then, once we quit that and reopened Chrome, we saw that, when we did a search on Google, all of the legitimate results were highlighted in green, which we actually found a bit jarring; we wish that, instead of marking all legitimate websites green, they kept them as is and simply marked suspicious websites in red. But this is a largely personal preference, we'll admit (plus, our favorite color is blue, so we're biased).

Website Filter:

Finally, Website Filter is basically setting parental controls for kids by category, including Nudity, Sex Education, or even things like Email or Blogs to keep your employees in check. Since there are no kids or employees using our computers aside from us, we decided to keep everything open, although we could see this feature being really useful for families.

Scans
Next, we clicked on the Scans tab, which included the Smart Scan that we did on the Overview tab, which looked for malware in "places where it tends to hide", a Custom Scan that would've only scanned a specific folder or drive, or a Full Scan, which would've tested every file on our computer. At first, we had assumed the Smart Scan covered everything, so it was a bit disappointing to see how Trend Micro buries its Full Scan in the Scan section rather than on the main Overview page. Nevertheless, we decided to do the Full Scan as well, which took a lot longer than the Smart Scan; we had to wait about 30 minutes, and while we could've done other things, it significantly slowed down our web browsing speeds. Again, not ideal.
Folder Shield
While the Full Scan reigned on, we decided to click over to FolderShield and see what was up. Essentially, this feature let us know if any program tried to open or change any files we placed in the "Protected Folders" list. And, if there were certain programs we trusted, we could create a "Trusted Program List", but for some reason we had to do this in the Logs section of the Trend Micro app.
Logs
Last but possibly least was Logs, which basically kept track of any threats we encountered, their response, and where they were found. It also kept track of:
Unsafe websites found
Folder Shield (although it's unclear why this is a separate window, if it's available in Logs as well)
Filtered websites
Any updates received.
Basically, the Logs section was like a diary detailing Trend Micro's every move. But since our computer was clean, it was completely empty.
And that was it for the process of using Trend Micro! If it wasn't completely obvious, this user experience was less than ideal, between the toggling back between web browsers, Chrome extensions and the app and the constant need to "activate" features and shut down Chrome. Trend Micro definitely loses points for its usability, but how did it work when we tested it for performance?